Achieving 'Net Zero' is when any Greenhouse gases that you produce are monitored and an equivalent amount is removed from the atmosphere to offset this. This may be within one site, across the entire company or throughout the whole value chain of the business.
The concept of 'Net Zero' is gaining traction with many industries and businesses from all different sectors. This is being driven by the UK and Scottish government targets for Net Zero by 2045 and 2050.
There are many different definitions of what 'Net Zero' entails and exactly what it means. Ultimately DB Group believes that achieving net zero as a business means that any greenhouse gases that you create are balanced out by your removal of greenhouse gases from the atmosphere.
Some organisations may reference a net-zero carbon target, but this only commits to the balancing of carbon dioxide emissions and not any other Greenhouse Gases, which is not enough on its own to meet government targets. Furthermore, The UK government targets only require net-zero to be achieved within the borders of the UK. This means you may meet their definition of 'Net Zero' yet your business may cause the emission of Greenhouse Gases in other nations.
However, whilst a goal to be fully net-zero across your whole value chain is admirable and to many might be an achievable aim it is important to be realistic with any targets that are set and the timescales that these can be achieved in. It may be more beneficial, and achievable, to start focussing on net-zero within individual sectors of your business or only emissions created domestically, and then this can be expanded upon in the future.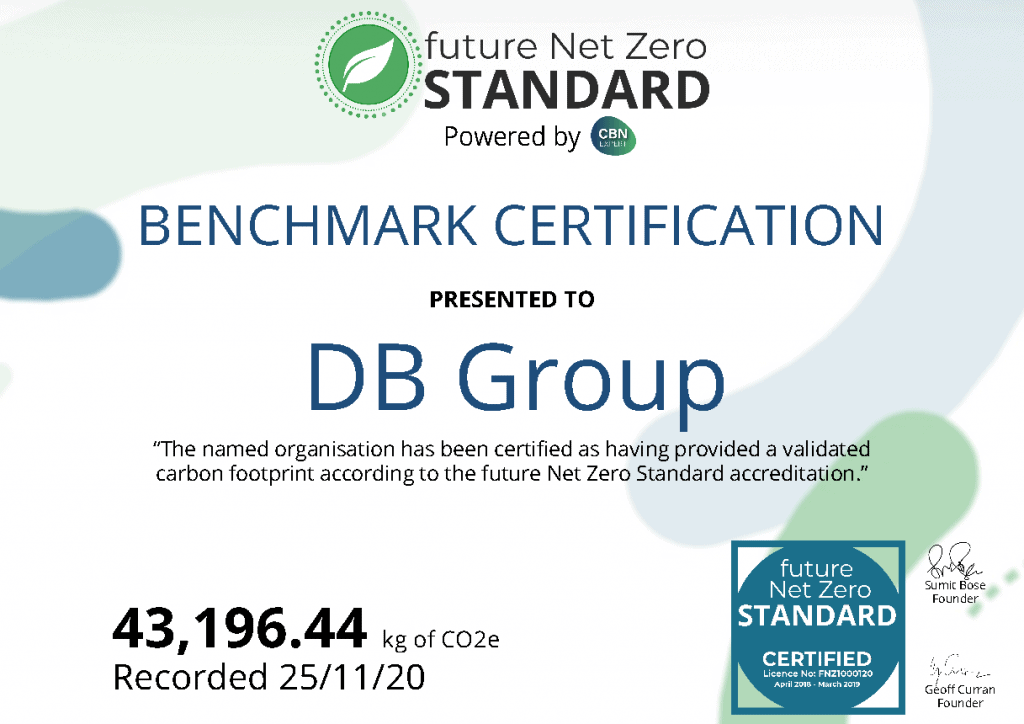 Our Pledge:

"Net zero will revolutionise the way we structure our daily practices on environmental management.  Defining your own Net Zero aspirations will prove challenging although taking the necessary steps to plan your strategy, engagement with experts and creating realistic targets and goals will be critical to the success of your project.   At DB Group we have pledged to reduce our carbon emissions in line with the government guidelines and have already achieved a Future Net Zero Standard which complements our existing achievements of maintaining our ISO 14001 accreditation since 2016. With future projects to install Solar and EV charging points and having already installed LED lighting and efficient boilers, we are confident that we can achieve our Net Zero definition in advance of the Government target of 2045."

What is the process?
Before setting any net zero targets we must first establish what exactly is feasible within your company. The first stage in order to do this is to understand the energy needs and current emissions that your business produces before we can understand what we can change in order to improve this.  Our plan would be to follow each of these steps.
Measure and monitor current energy use through technology and site visits to establish current output and total emissions
Establish where we can reduce energy consumption through both efficiency measures and behavioural factors.
Offer alternative, lower carbon, energy alternatives for the remaining energy use.
Once emissions are reduced as much as possible within the scope of the business, we can look to offset any remaining emissions.
From this data and decarbonisation plan we can look to set ambitious yet achievable targets for Site specific or companywide Net Zero.
As shown in these steps, the 'offsetting' of greenhouse gases comes last in the process of becoming net zero. This is the hardest and often the most expensive step, yet it is important to note that technology is always improving. The biggest impact that you can have in starting the process to Net Zero is reducing your energy consumption to as low as effectively possible in the first instance. Once this is at a low base level, we can look at low carbon alternatives for this energy use and then measures to offset any remaining emissions. Therefore, it is crucial that once we get to this step that the emissions are as low as possible. Unfortunately, whilst it may seem easier to keep your current level of energy consumption and simply offset this whole amount, on a practical level this would not usually be possible as well as being extremely expensive. Behavioural changes and efficiency measures are still an extremely important part of the process.
Why should we set net zero targets?
There are a number of reasons why as a business you may be looking to move towards Net Zero.
One of the biggest drivers in this is the government targets. In 2019, in an amendment to the Climate Change Act the UK government passed legislation committing it to achieving at least a 100% reduction in carbon emissions relative to the levels in 1990. This means that to encourage businesses to transition to net zero there are a number of Scottish and UK funding opportunities and grants to aid this transition to a lower carbon future. This is something that may be reduced as this becomes more expected so it can be beneficial to be at the forefront.
Furthermore, there will be natural movement towards a greener future through already existing requirements for businesses such as the Streamlined Energy and Carbon Reporting (SECR) and the Energy Savings Opportunity Scheme (ESOS) requirements. These schemes already require businesses to record and report their energy use, carbon emissions and ensure compliance with efficiency legislation.
All of this combined with an international movement towards achieving net zero means that now is the time to look to the future of your emissions and establish a plan. It is going to start becoming harder and more expensive to continue without changing path and tackling your businesses greenhouse gas emissions.
By striving towards targets of net zero you can set yourself up as an industry or sector leader and show your commitment towards a more sustainable future. This is something that can be advertised and marketed effectively and is becoming more and more important to a large number of consumers and customers.
What can DB Group do?
DB Group can help with the process from start to finish and manage your net Zero strategy.
We will start by monitoring your energy use and emissions as well as listening to your needs and requirements. This will include comprehensive and accredited verification platforms to track and manage your progress across all your sites. We will produce surveys to analyse your infrastructure and processes to understand the full opportunities that you would have available.
We will deliver a carbon management plan with a scope of works highlighting how, why, what and where to achieve your Net Zero Targets. At this stage we will be able to inform on what can and can not be achieved which will allow for a more streamlined focus
DB Group can also assist in the funding and help to establish any grants, loans or funds that would be accessible for a carbon reduction project such as this one and where they can be utilised at each step of the project.
Ultimately, we will assist in establishing a plan on how we can make your processes more efficient, introducing low carbon alternatives and allow for offsetting of any remaining emissions.
This will allow us to work together to create ambitious yet achievable targets and ensure our path to Net Zero is a successful on