Future Net Zero (FNZ) is the roadmap to a carbon efficiency strategy and a carbon management platform designed to bring together your energy, transport, and financial data all in one location. FNZ can help to collect your data, highlight areas that may need attention first and most importantly reward you for strengthening your commitment to carbon reductions through an accreditation program.
In a recent poll carried out by Bryan McAlpine, Head of DB Enviro, 76% of respondents stated that an accreditation to show commitment to reducing carbon emissions would add value to their business.
Strengthen your commitment to carbon reduction
Unlike government legislation such as ESOS and SECR which collects similar data with no reward, FNZ will provide you with a certified accreditation on completion of the data upload.  The accredited program starts with a bronze milestone award for a saving of 10% up to a Platinum award for savings achieved over 50%.
The full breakdown of accreditations are as follows:
Bronze Award                  10%
Silver Award                     20%
Gold Award                       30%
Platinum Award             50%
Uploading the data is extremely simple and for a single site will take around 2 hours.  What we need to do first is collect your data ready to be uploaded.  We have provided a list of the data you will need within this website and recommend that all the data is collected prior to uploading to the platform.
DB Enviro will help you to upload the data and can provide a template to make the process even simpler.
Bureau Service
The environmental team at DB Group will be offering a Bureau service to set up your FNZ account, create the dashboard and provide recommendation to strengthen your commitment to carbon management.  Below are some of the items that DB Enviro will support your business with through the set-up process:
Provide a Data Collection Template
Create your designated dashboard
Upload your Energy, Financial & Transportation data
Train your teams on the platform
Award you with an accreditation
Maintain the data collection
Recommend opportunities to reach the next milestone
There is a cost for your carbon management dashboard.  At £750 + VAT we feel that this is competitively priced to allow us to collect your data and report this as a company-wide submission.
Essential
The essential carbon management platform has been created for companies looking to start their Net Zero journey.  An entry level solution, essential will allow you to track performance of your Scope 1, 2 & 3 emissions including travel management and metrics to understand your progress.   Fully certified and accredited, the standard will be your go to solution to visually highlight your commitment to energy management and to communicate to your wider community, stakeholders, and peers.
There is a cost for your carbon management dashboard.  At £750 + VAT, we feel that this is competitively priced to allow us to collect your data and report this as a company wide submission.
Pro
The Pro solution captures your data similar to that of the Essential solution although with added features including water, waste, employee commuting, increased business travel options and the ability to create your own metrics.
The dashboard allows for more interaction from the customer with deeper descriptions and breakdowns of where your emissions and consumed and where you can start to make improvements.
I particularly like how you can align the metrics with your own internal KPI's for example if your organisation is a distillery or brewery then you can create a metric based upon litres of alcohol produced or litres of water used in process.   In additional to the metrics and as we opt to work from home, the home energy and employee commuting features will be particularly important for data capture.
The pro version is more advanced than the essential solution and although more expensive at £1280 + VAT per annum it really does provide you with a carbon management verification platform, full accredited and ready to meet all your carbon capture needs.
The DB Enviro team look forward to help your company help contribute and be recognised for your commitment to achieve net zero achievements.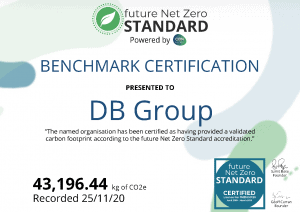 Read our latest blog   Funding Projects: Does your business have internal targets to achieve Net Zero?