OFGEM's changes to non-commodity charging regimes

Written by Tim Partridge, Head of Operations and Trading
With new non-commodity charges (NCCs) coming to market it was thought that Triads had had their day, however, COVID has delayed the commencement of parts of the new Targeted Charging Review (TCR) and Triads will remain with us a little longer.
National Grid, the Electricity System Operator, published their Five-Year View of TNUoS Tariffs for 2021/22 to 2025/26 in August, and while TNUoS charges are relatively unaffected next year, in 2022/23 we see on average a 91.8% fall in £/kW charges.
These charges will be replaced by aspects of the TCR, ensuring that everyone pays their fair share and the ability to avoid higher transmission rates will reduce, and your new charges will be based on your available capacity (kVa).
TCR will ultimately impact TNUoS, DUoS and BSUoS charges. These NCCs make up 27% of your bill and will change to a largely volumetric based charge methodology, overall composed of both a fixed charge and locational costs.
What is a triad?
Triads are used to determine your transmission (TNUoS) charges. They are the three highest half hours of consumption as identified by National Grid ESO where the half hour periods fall in between 1st November and end of February every year. To qualify as a period, each HH must be separated by at least 10 days.
It is hard to know when a Triad may occur, and National Grid only publish the periods once the whole period is over. While there is no way of knowing in advance when a Triad will definitely hit, there are forecasting tools and trends available to us to use as indicators.
These peak periods put the National Grid network under pressure to balance the system and deliver electricity where it's required; therefore, NG bring generators online that are more expensive and less efficient.
It is expensive for businesses to consume in these half hours, as Triads tend to occur during the most expensive DUoS charge bands. Anyone who has their Transmission charged separately will see their average demand during the three Triad periods multiplied by the applicable regional tariff to determine costs.
Trends
While there is no guarantee that history will repeat itself, energy use is quite static. These periods have become harder to predict over the last few years, what varies more so these days is not just renewable generation and weather, but embedded generation and Demand Side Response (DSR) act to reduce spikes of demand and flatten load profiles.
The landscape is changing slightly, the below facts at odds with more recent events but they do help us understand what to prepare for.
Up until a few years ago, all Triads fell in February; the historic coldest British month
Triads usually fall on a Monday or Thursday
In 2018-19 all three periods were in Nov/Dec between 1730-1800
2019-20 saw a Triad in HH34, which has not happened since the 1997 season
Alerts
Many companies offer warnings or alerts, but it is wise to choose carefully. Many who announce they correctly predicted periods with 100% accuracy must reveal how many alerts they ultimately sent.
As an end user looking to avoid the expensive periods, you do not want to have an alert every single day to then load shift your operations constantly. Also, it is fair to say that by accurate warnings being notified, these can potentially alter what was going to be a Triad HH as many move consumptions away from these periods.
We have partnered with some selective suppliers and SaaS energy data solutions providers to bring you what we feel are the most accurate alerts, that will not have you chasing your tail. These comprise the expertise of energy demand specialists, considering weather and generation types amongst other factors. The email alerts sent around mid-morning usually will notify you of High, Medium and Low chances of a Triad through November to February.
These periods can be beneficial to clients with onsite generation capabilities, and if you can generate power in these periods and can export to the National Grid there are the opportunities for financial incentives.
So, as this is the last year to be able to avoid the higher cost TNUoS/Triad charges before the new non-commodity costs kick in, if you wish to receive our Triad Alerts, please sign up here

What is the targeted charging review?
As both the UK electricity industry and network evolves, more and more businesses (and homes) have on site generation to be able to produce and use/store/sell back excess power to the Distribution operators. While there nothing inherently wrong with this, it means many avoid paying TNUoS costs.
Ultimately, this means it falls on less and less companies to share the burden of paying transmission companies; something Ofgem wishes to rectify.

Many suppliers can add this and other new or increasing charges into at any point to your invoices, so arranging a contract in advance is not an option to avoid paying them as some sites are suggesting.
From Ofgem's later in this article, we can see that come April 2022 non-half-hourly customers (classed as low voltage) will have their costs based on net demand; whereas larger, half hourly businesses will be based on your last 2 years agreed capacity.
While this means that no one can go and reduce their capacity with a distributor to try and avoid these costs, reducing your kVa usually means you'll pay less, but please make sure you do enough analysis to avoid excess charges. This is a good time to conduct a capacity review to ensure you are only paying for what you need.
Once your 'band' has been identified, you will be charged by the supplier once the values have been published.
Of the suppliers I have spoken to, most will put the charge into your standing charge, and while this makes sense for domestic and possible some LV NHH the majority of the costs could lie either within TNUoS or anther separate itemised charge line.
Remember, the other charges non-commodity charges (those that aren't the actual energy) will still remain in place:
| | |
| --- | --- |
| Industry Costs | Government Levies |
| TNUoS | FiT |
| DUoS | RO |
| BSUoS | CFD |
| BMIS | Cap Mech |
| Line Loss Factors | CCL |
| | AAHEDC |
The table below is from Ofgem's Targeted charging review: decision and impact assessment and is a schedule of illustrative charges for the North-East region under their final banded fixed charges, but should give you an idea of what to prepare for.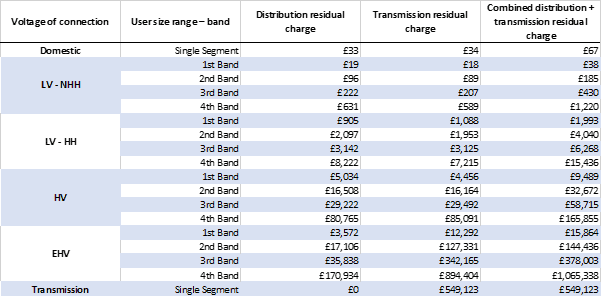 What the Ofgem documents elude to, is that this time next year, in the upcoming transition period Winter-21 through to Summer-22, may require further reconciliations to charges new and old.
If you have any questions on non-commodity costs, Triads, signing up to our free Triad alerts and energy reports then please do get in touch.

Suppliers have always been able to apply reconciliation charges to new or altered non-commodity costs, even to those customers on some 'Fully Fixed' contracts. This happened only recently, and was covered in our recent blog post here