Managing a property investments energy and water consumption throughout the ownership phase can be difficult to record and target reductions, particularly as part of a large constantly changing property portfolio.
Initially we'd suggest you carry out an audit on each property as well as their billing as part of the onboarding process. Helping to establish existing usage, tenants and landlords' requirements, the metering infrastructure as well as opportunities for education and to target consumption reduction. Initially an audit of billing establish the previous years' consumption as well as the current energy performance of the building. With this you can then establish a baseline with which to arrange targets for consumption reduction. Targets can be established in line with previous usage where the tenancy status of the property has remained the same – where this has varied you will require to submeter the let properties as well as the areas remaining under the landlords responsibility, this will allow true comparison year on year and help to monitor the buildings perspective appropriate to its tenancy status.
DB's own Enviro team offer a full survey which would conduct a review with a view to achieving outcomes as follows:
Free observation reports
Energy saving initiatives
Generation projects
ESOS & ISO 50001
SECR/CRC
Load based products
Water conservation projects
Behavioural change programmes
LED Lighting
Tenant recharging
Legionella monitoring
Automatic monitoring & targeting
BEMS optimisation
Funding models/grants/tax breaks
After the initial audit, installation of a sub meters with telemetry will allow for real time measuring of energy and water usage as well as the outside temperature so that you can track energy consumption relative to the external environmental factors – this will help to discount any major spikes or dips in consumption as a result of external factors such as exceptional cold winters or vice versa. These sub meters and associated data outputs will also help to identify energy wastage and water leaks occurring outside the operational hours of any property.
DB Group would recommend a monitoring and targeting platform futureproofed to compliment sustainable growth for the properties investment period. The software and hardware platform can incorporate and upload data from unlimited resources as well as connecting to critical monitoring across the building. Below we have provided a "how it works" methodology. The data will be uploaded via a mix of API, FTP or CSV model along with additional hardware on site for non-half hourly meters. Please note that existing or historical data will not be compromised and this can be uploaded to the platform to allow for benchmarking and a continued audit trail.
From the concept below, the icons depict how we can take data from any source and send this information to the smart hub. To the right of the design is the email and text icons which is the alarm communication network. We can email or text alarms to anyone or any email address or to any PC to allow fast reaction time should the comfort thresholds be broken. The speed of the reaction time can be critical to the environment surrounding your estate. The smart hub will also allow you access to the reporting and analysis suite. A group of standard reporting will be available and identified within further sections of this report. Using a stand alone platform that can be accessed From any tablet, mobile phone, laptop or desktop will not only reduce crucial resource time however will provide an instant response without the need to visit site.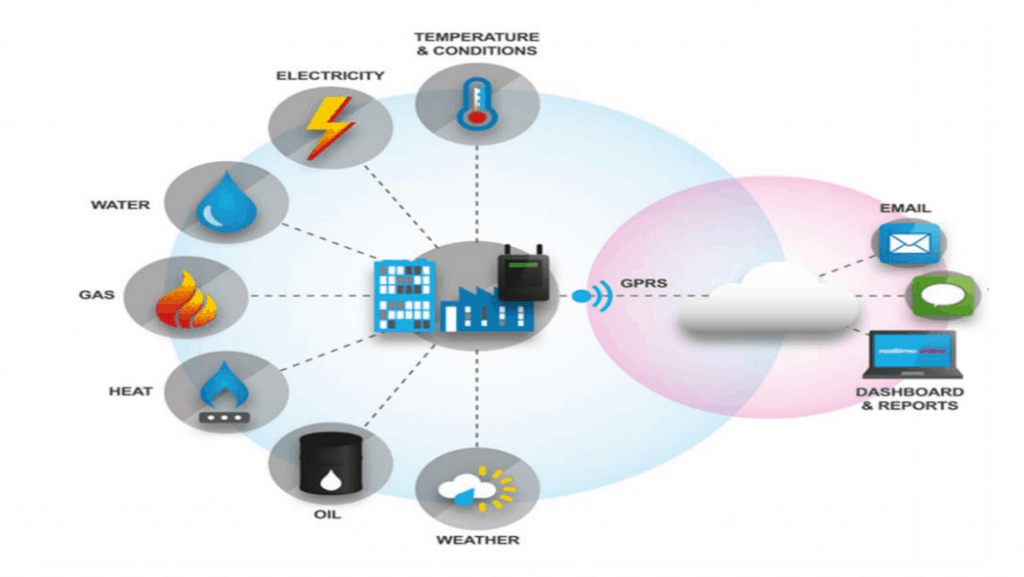 Setting targets need to be achievable and creating competition across buildings or regions can help to focus occupiers and property managers to instil positive behaviours as well as to embrace energy saving technology where available. Its important that these targets are achievable – as part of the initial audit, this will help measure what a 'usual scenario' looks like in your building, which any reductions can then be compared to. You can also use this monitoring and insight to benchmark with other organisations in your sector.
With the initial audit complete, targets agreed and metering installed in order to monitor consumption and performance against targets you are now fully prepared to deliver year on year reductions in energy consumption, better water management as well as a happier and healthier property portfolio and tenants.