Here at DB Group we are trying to inform and educate our clients on the energy industry, with transparent information not just pertaining to their bills but what is going on the wider markets. This helps them to understand not just the best type of contract for them, but the best time to either lock in those Fixed contract prices or trade their volume if they are a Flex customer. So when is the right time to purchase energy for utilities?
We have spoken to many new clients recently, and what strikes me as worrying is that they or their broker have a mind set to lock in Fixed or Flex contracts at around the same time every year. When anything from politics to weather can affect our prices, it's good to always be on top of your energy procurement.
Thankfully many DB Group customers locked in 24 month power contracts in early 2016, and as you can see from the middle of the graph (data courtesy of Marex Spectron) it was a most opportune time to do so! You can see by waiting until the same time every year you may not be taking advantage of moves in the market – did you think that this warm summer would have higher prices than the cold snap in February?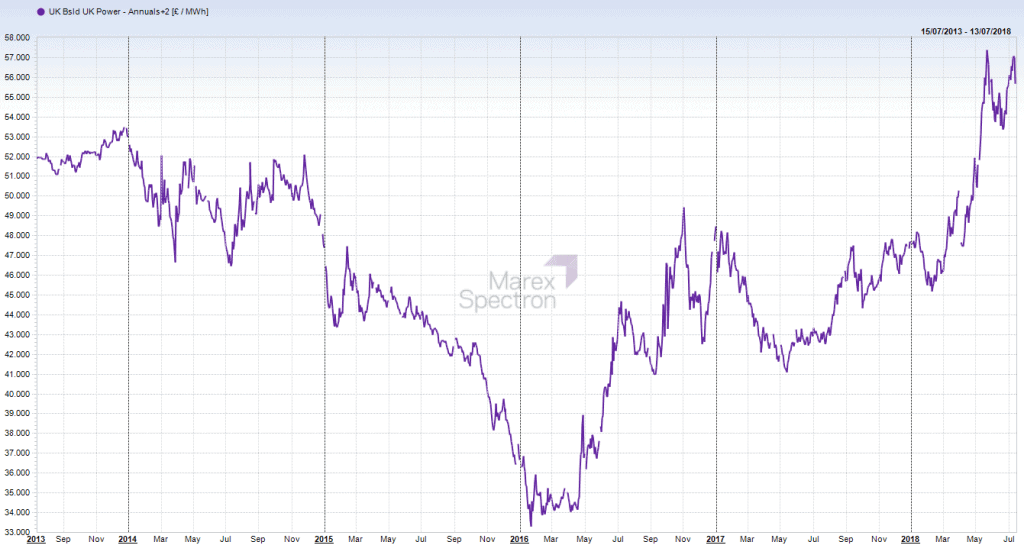 People are now getting a shock when coming to renew their contracts against those 2016 prices with prices continuing to go upward. An annual power contract is now 65% higher for the energy costs, and gas is 95% – that's nearly double!
The factors that impact these prices have steadily been rising over the last two years, some (average rounded) figures to compare are below.

We are having to explain to new customers that comparing renewal rates against previous contracts from early 2016 will of course show a large increase – the same would be said if you were looking at most things as per the below from the Office of National Statistics:

While many factors are expected to rise in the future; with oil to possibly hit $100/bbl again, carbon prices expected to double by 2023 and quadruple by the following decade, and even the Non Commodity Cost elements, we understand Supplier prices in the next few years are presently lower than current levels so longer term maybe better for you.
The same with Fixing Non-Commodity Costs as Suppliers: just like a mortgage if you fix a price with the provider, they have got to cover themselves if the industry rates go up! So fixing these to purchase energy may not be in your best interests.
With DB Group, we will keep you informed of what the markets are doing even while you are in contract… as you can extend at any time and may get a cheaper rate 'now' than by waiting until your current contract is up for renewal. We won't just get in touch when it's time to renew.
In a recent example by not procuring energy at their 'usual time' and then just waiting 1 day extra, a school saved over £11,000 off their annual bill by taking our advice. This could easily be you and your savings after talking to DB Group.
If you feel you have not been given all the details of the best time to lock in your contracts that start Oct-18 or anytime in the future please get in touch with DB Group. We will be able to walk you through the market drivers, advise what is happening right now and when would be a good time to purchase energy to buy for both power and gas. For us, it is not just a case of contacting you 'in the summer'.
Find out more
Find out more on what DB Energy can do for you.