Written by Catriona Lindsay, DB Group (Europe) Pricing Analyst
On Monday the 5th of October, one of the Big6 energy suppliers officially announced through letters to end-users that, for the first time, it will be reconciling charges on its standard Pass-Through contract. Pass-Through customers, who make up the majority of this suppliers' fixed contracts, will be billed at a temporary increase of 0.201p/kWh over a nine-month period from December 2020 until September 2021. The increase only affects electricity contracts agreed before April 2020, with no change to gas prices.
This supplier, as many others do, offer two 'fixed' products – a Fully Fixed and Pass-Through, where only the energy value is fixed, allowing changes to non-commodity costs above forecast to be charged. Under Pass-Through the contractual T&Cs retain the right to vary prices whereby
Even under a Fully Fixed contract, which comes with (on average, in this example) a 0.4p/kWh premium, they still maintain the right to pass on charges where there has been in the introduction of a new non-commodity cost.
Though described in common parlance as fully fixed contracts, in reality, most suppliers solely offer a 'fixed at forecast' option with terms and conditions that are effectively the same as a Pass-Through contract. The existence of the Fully Fixed / NCC Pass Through distinction gives transparency to their terms and conditions in a way that most suppliers do not.
We anticipate that other supplies may follow their lead and we could see more reconciliations happening in the future. However, of the suppliers we spoke to, many indicated that they had already factored in the changes to non-commodity costs that caused this supplier to reconcile.
The justification for the 0.201p/kWh increase was vague in our opinion, pointing to an increase in FiTs, Capacity Market charges and, most importantly, BSUoS. To understand why these costs were reconciled, then, we need to understand BSUoS in more detail. Please note, a reconcile like this should work in both directions – suppliers are contractually guarded to be able to increase inline with new or altered charges; but many rarely reimburse if their forecast is above the actual rate.
What is BSUoS?
The Balancing Service Use of System (BSUoS) is a charge levied by the National Grid to cover the costs involved with running as a System Operator. The charges cover day-to-day administration and operational costs involved with balancing the UK's electricity system, including paying generators to either 'black start' in the case of an emergency, or hold off generation in times of low demand.
Balancing the UK's system has become an increasingly complex and expensive task as coal and gas plants give way to the inherently more volatile wind and solar power sources. BSUoS charges are passed onto suppliers for payment on a half hour granularity with the option to reconcile on settlement runs, though the National Grid does issue monthly forecasts to mitigate some risk.

On average, BSUoS has historically sat ~0.25p/kW…
over the last two years, however increasing volatility has seen prices spike in the past – for example, in mid-March 2019, BSUoS costs temporarily averaged ~0.7p/kWh after the Western Link Interconnector failed. This spike in costs was passed onto Energy HQ Npower Business Solutions customers, so this kind of reconciliation is not unprecedented within the market.
The spike in 2019 was, however, exactly that – a temporary spike. Throughout the whole of 2020, however, BSUoS costs have nearly doubled, with the simple average in 2020 ~0.445p/kWh. The National Grid forecast that prices in July and August alone would reach 0.80p/MWh.
Why are BSUos charges so high in 2020?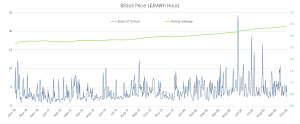 BSUoS costs have steadily increased as the UK becomes increasingly reliant on embedded generators – that is, for electricity that is connected to the Distribution Network rather than the Grid, typically CHP or renewable generation. Embedded generators often receive BSUoS prices as a benefit, suppliers paying to reduce their own BSUoS exposure, and thus encouraging this cycle to continue.
Renewable generation is inherently volatile but increasingly relied upon as the UK decarbonises. In 2019, renewables made a record 37.1% of the UK's power stack, with coal nearly completely expunged from the system, particularly in the summer months (Britain ran coal-free for a record 67 days and 22 hours in June.)
High renewable generation was maintained throughout 2020 even as the UK electricity demand plunged to its lowest levels in 40 years as lockdown came into effect in March. The costs of balancing the system increased drastically, with Ofgem ultimately ordering an investigation into the National Grid after the expenditure in maintaining the system rose to £718m. Generators were paid to lower production to prevent the grid being overwhelmed, with over £50m paid to EDF to curtail output at the 1.25GW Sizewell B nuclear plant for four months.

Pain was felt across the industry, Britain's power sector estimated to have lost £1.1 billion over the five-month period from March – August.
Will BSUos costs continue to rise in the future?
Demand is starting to and is expected to recover into 2021, yet the underlying struggle the Grid faces with growing renewables sector will be a driver for sustained high BSUoS costs.

Prime Minister Boris Johnson announced on October 5th that the UK must 'seize upon a green industrial revolution' and 'build back greener', pledging to quadruple Britain's offshore wind capacity to 40 GW by 2030. While questions have been raised concerning the costs and the government's commitment to this figure, it is clear that the UK will continue to pivot towards a renewables-based power stack.
As the UK moves towards a low carbon economy, the grid will have to restructure to allow for a greater deal of flexibility. Some of this flexibility will come from developing technologies and emerging assets (supported by a raft of headline grabbing figures such as Innovate UK pouring £5.4 million into three-year R&D battery development projects), though battery storage system operators have criticized the National Grid for not calling on these assets more often.
Another area of increased flexibility can come from updating or rehauling the system as it is now. A taskforce team has been established by the National Grid ESO at Ofgem's request (so dubbed the snappy 'Second Balancing Services Charges Task Force'). The formation of the task force is born from the assessment that BSUoS is not equipped to deal with the increasingly volatile system that comes at a cost to consumers. The key question as decarbonising efforts accelerate is who should pay for our critical infrastructure – should costs be spread evenly across all users, or should the bill be footed by large consumers – and how should the charge be constructed?
The task force has recommended transforming BSUoS into a fixed charge despite the over/under recovery risk and associated cash-flow costs for the National Grid to manage. A 14/15 month total fix and notice period has been recommended.
Ultimately, however, Ofgem is still reviewing the Task Force's conclusions. How the market might look in the future with emerging technologies and an ongoing worldwide pandemic remains uncertain, with a cultural shift towards working from home changing demand curves and business needs. With suppliers losing millions of pounds and job cuts seen across the country, reconciliations and enforcement of take or pay policies are likely to become more common avenues for suppliers to recoup funds where possible.
So, while the very nature of Pass-Through contracts allows energy suppliers to recoup changes in non-commodity costs, the supplier in question here is well within their rights to do what they have. They may have tried to shield the customer from charges but could not sustain the impacts, and were left with a decision that either impacted their bottom line or reputation. Many should not feel too aggrieved at the reconciliations, as the 0.201p/kWh was still a saving on the differential to a fixed priced contract (0.4-0.5p/kWh), and will only be for 9 months, but it is always good to fully understand each and every contract type.
Read our latest blog on Triads & the targeted charging review